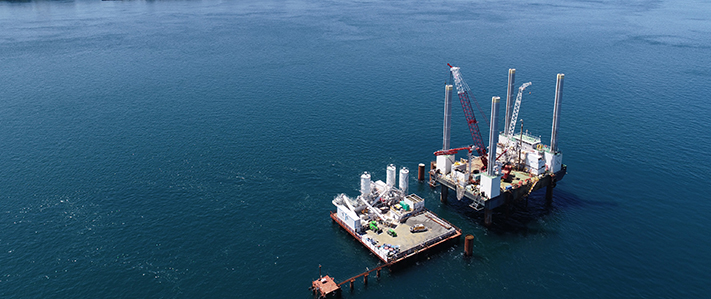 TREVI CHILE: SAFETY AWARD FOR THE PROJECT PUENTE CHACAO
November 25, 2019
Trevi Chile Spa, the Chilean subsidiary of Trevi SpA, a world leader in the foundation and soil consolidation works, was granted the "Safety Award" by the "Comité Paritario de faena proyecto" (the government body in charge of the health and safety checks in the workplace) for "the constant commitment and the never-ceasing participation in the care and well-being of its workers" in relation to the foundation works for the new Chacao Bridge.
The Chacao Bridge, an impressive and strategic work strongly pursued by the Chilean government in order to connect the great Island of Chiloé to the South American continent, bypassing the Chacao Channel, will be the longest suspension bridge in South America and among the longest ones in the world thanks to its 2.6 km length.
The bridge has three reinforced concrete towers (two towers are 179.6 m high while the south tower is 160.77 m high), two main spans that are 1055 m and 1100 m long and a suspended span that is 380 m long. It was planned as having two one-way lanes on each side and designed to last 100 years, resistant to winds of over 220 km/h as well as to strong sea currents.
Trevi Chile Spa is working on the construction of foundation works at sea and bored piles with a 2500 mm wide diameter, at a 75 m depth, under very complicated conditions because of the wind that blows at a speed of over 220 km/h.
Thanks to the great experience gained in over 60 years of onsite work and the multitude of projects carried out in extremely challenging situations, Trevi has acquired the ability to successfully face complex challenges both from a technological and environmental point of view, always paying great attention and taking care of the safety of its workers.
This is pointed out by the awards recently received by USACE for the 5 million hours worked without accidents at the Mosul Dam in Iraq and for the 1,500 million hours worked without accidents at the "Shuaibah III Expansion II Desalination R.O. Plant" project in Saudi Arabia."